Guana Island
GUANA ISLAND

BRITISH VIRGIN ISLANDS
Island or region
Guana Island - British Virgin Islands.

Location
Guana is a lush 850 acre private island, the 7th largest island in the British Virgin Islands. It is located north of Tortola, just a short boat ride from Tortola's airport on Beef Island. Guana Island is named after a large iguana-shape rock on its western shore.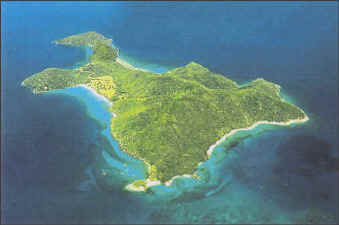 Rooms
The interiors are comfortably but not overwhelmingly furnished in a style that comes out of the history of Guana Island, which was once a sugar cane plantation owned by American Quakers. They favored native stone architecture and managed very nicely without media rooms and discos. Guests stay in secluded cottage rooms, each with a private terrace overlooking the sea.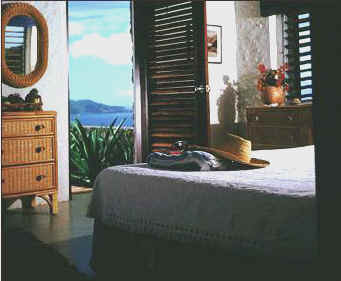 Dining & Entertainments
After cocktails, guests may opt to dine privately or to join others at friendly social dining tables. Dinner -- the freshest seafood, Island-grown fruits and vegetables, breads and muffins from our own oven -- all served on china and crystal by a staff as cheerful as candlelight. And then comes the rest of the star-filled night.
Sports & Leisure
A day on Guana Island can be filled with a variety of activities for those who relish the outdoors. Guana Island has equipment for snorkeling, windsurfing, kayaking, fishing and sailing. There are also tennis courts for those who love to play. For an additional charge, the island managers can arrange water skiing, fishing trips, sunset cruises, castaway picnics, massage, tennis pro, scuba diving and instruction, deep sea fishing, sail or motor boat charters, and boat trips to other islands. Several of the 7 beaches around the island offer good snorkeling, right off the beach.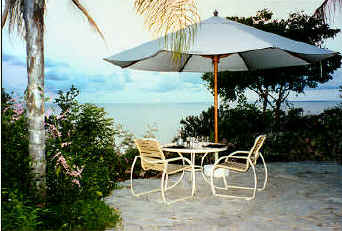 Additional features
Guana Island is a hiking paradise of over 850 acres of nature and hiking trails. Many of the trails are easy, but some involve climbing one of the mountains on the island and can be difficult. Since the island is a nature and wildlife preserve, it has the richest fauna of any island its size anywhere in the West Indies.
Spoken languages
English, German and Chinese.
Credit cards
Mastercard and Visa.
Classification
Comfort ****
Member of
MDI International.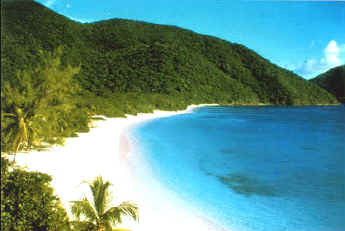 Rates
From 640 USD to 1,500 USD per day and per cottage, for double occupancy. Above rates include three meals per day, afternoon tea and coffee and wines with lunch and dinner. A 17% tax and service charge is added to your bill. There is no additional tipping.
(ca. 605 to 1,420 Euro / 400 to 935 GBP / 885 to 2,070 CHF / 980 to 2,300 CAD) - Exchange rate for 01/16/2003.
Packages & Special Offers
Honeymoon and Romance packages.
"The World of Islands" special offers
/

Contact information
Guana Island, Reservations Office - 10 Timber Trail - Rye - New York 10580 - USA.
Telephone : + 1 914 967 6050

Toll free : 800-54-GUANA

Fax : + 1 914 967 8048

E-mail : Guana Island

URL : http://www.guana.com

International representation
/
Telephone : /

Fax : /

E-mail : /

URL : /